Electrostatic Disinfection and Anti-Microbial Coating Service
Commercial Building Services offers a 2-step process to thoroughly clean and protect any facility. 
Step 1: Electrostatic Fogging – Sanitize and Disinfect
Using an electrostatic fogging machine, we spray a fog of hospital-grade sanitizer that effectively kills 99.9% of all fungi, viruses, and bacteria (Including the COVID-19 virus).  The solution is atomized and electrostatically charge by an electrode so it clings and adheres to all surfaces.  The charged droplets repel one another and actively seek out environmental surfaces, which they stick to and wrap around to coat all sides.  Because surfaces are coated evenly, wiping is not required.  The fog is so fine that is reaches over, under, and around any and all objects, including hard to reach places.  Once applied, the sanitizing agent works to completely disinfect the covered surfaces.
Step 2: Anti-Microbial Coating
We also offer a second step preventative method.  Using an electrostatic fogging machine, we apply a fog of anti-microbial coating that is proven to be effective for up to 30 days at preventing microbes from reforming.  In laymen's terms, you can think of this as a kind of "Rain-X" for microorganisms.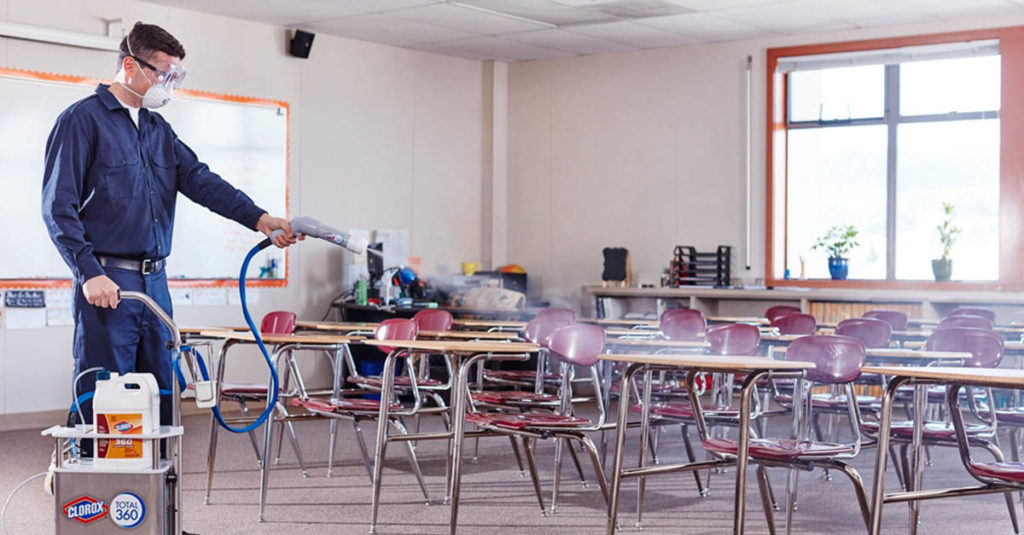 WHAT SETS US APART?
We offer the highest quality service at a competitive cost.
Our people are simply better—our cleaning technicians receive more training and better pay than our competitors.
Our turnover rate is less than 5%, compared to the industry average of almost 30%!
All service programs are customized and tailored to each individual client.
We maintain strong communication to ensure quality service.
We are environmentally conscious.
QUALITY AT A GLANCE
Account Management: your Account Manager oversees service and conducts periodic in-depth service review.
On-Site Visits: your Area Supervisor conducts routine inspections to ensure that we are delivering on our promises.
24-hour Customer Service: we have crews and office staff working 24/7/365.  You can call or email Commercial Building Services at any time and expect instant response.
STANDARD OF SERVICE
Our clients call it exceeding expectations. We call it business as usual. At Commercial Building Services, we're committed to providing you with first-rate service, performed by highly trained specialists, each and every time. Our dedication to sustainability ensures continuous improvements while striving to reduce your costs. Our mission is simple: improving work environments and creating value for our clients. It's the Commercial Building Services difference, and it's the foundation on which we have achieved success. Our 99% customer retention rate proves that we do more than maintain work environments—we improve them.
KNOWLEDGE AND TRAINING
At Commercial Building Services, we have the experience and expertise to provide commercial cleaning services for a wide-variety of businesses and facilities. We also offer specialty cleaning services that require expert training and experience in cleaning methods for a number of industries including:
General Office
Healthcare
Education
Manufacturing
Hospitality
Restaurant
Retail