Commercial Building Services is proud to be the Authorized Ceiling Pro™ Dealer for the St. Louis Metro Area!
The Ceiling Pro™ cleaning process is non-toxic and restores ceiling tiles to 'like new' condition quickly, safely, and cost-effectively. We GUARANTEE that our unique cleaning process will save you money! Up to 80% less that replacement and up 50% less than painting, all without disrupting business or harming tiles!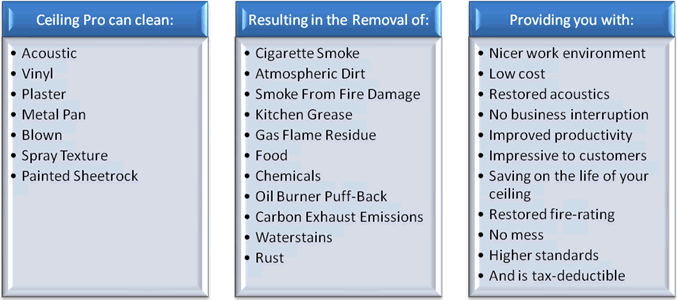 The Ceiling Pro™ service includes the cleaning of all gridwork, light lenses, & air diffusers. We use 13 different solutions to service over 100 different ceiling types. We can find a solution for you!
Compare The Alternatives: Cleaning Is Clearly Superior!
| | | |
| --- | --- | --- |
| Painting | Cleaning | Replacing |
| $ .40 – $ .80 per sq. ft. | $ .35 – $ .45 per sq. ft | $ .80 – $ 4.50 per sq. ft |
| High Cost | Low Cost | Highest Cost |
| Leaves Odor | Removes Odor | High Dust and Debris |
| Eliminates Acoustics | Improves Acoustics | Cost of Disposal |
| Destroys Fire Rating | Improves Fire Rating | Labor to Remove |
| Business Interruption | No Business Interruption | Business Interruption |
| Can Stain Carpets, Etc. | No Mess | Very Messy |
| Must Cover Everything | Little or No Covering | Must Cover Everything |
| Limited Surface Use | Cleans All Surfaces | Limited Application |
| Special Paint for Fixtures | Cleans Fixtures | Must Replace Fixtures |
| Several Coats | One Coat | 10% – 20% Waste Factor |
| Labor Intense | Easy To Do | Trained Labor Required |
| Bulky Equipment | Tiles Remain In Place | Bulky Equipment |